The first Annual General Membership Meeting was called to order by Commodore Nominee Dave Wheeler in the early afternoon of Saturday, the 23rd of November 2002.
Focus on the Social & Community Objectives
Bring back the Cheers ambiance
Engaging more YC members in committee participation
Developing volunteer reward & recognition
Forging closer alliances with our community
New Member Application Process Modifications (2008-1)
Initiation and Membership Renewal Fees Change Authority. (2008-2)
Monthly Dues Rate Change Authority (2008-3)
Officer and Director Nomination Criteria Requirements. (2008-4)
Membership Classification Additions (2008-5)
Establishment of Compensation Committee (2008-6)
Commodore Burrow opened the Annual General Meeting by thanking those members present for participating and supporting the Club. He cited several significant events that occurred during the year: Transfer of the Banderas Bay Regatta, our signature event, to the control of the Vallarta Yacht Club, the Pre-Panamerican sailing events and the WesMex regatta. Al stated that he would continue to pursue a balance of social, cruising and racing activities during the year.
There being a quorum present, the minutes of the 2010 Annual general meeting were approved.
Constitution Amendment 2010-2, Addition to the ByLaws Chapter 11 and Annex 1 to the ByLaws, all dealing with the transfer of the Banderas Bay Regatta, were read and approved.
Commodore Burrow solicited nominations from the floor for Officer and Directors for 2011-2. There being none, a motion to approve the slate prepared by the Nominating Committee was approved.
The following Officers and Directors as proposed were elected:

Commodore Al Burrow
Vice Commodore Dan Green
Rear Commodore Bill Noonan
Treasurer Al Benaroya
Secretary Andy Barrow
Staff Commodore Linda Green
Directors:
Membership BonnieFearis
Ashore Activities George Kraniak
Afloat Activities Mike Danielson
Junior Sailing Ken Gill
House Jerry Siggins
Public Relations Dick Williams

Directors Appointed by the Commodore and Board:
Paradise Village Liason Dick Markie
Government Relations Terry O'Rourke

Commodore-Elect Dan Green reported that restaurant and bar venues were reviewed and changes implemented in menus and bar stock and procedures. Thanks to members Dewey and Darlene Hines, new fine dishware with the Club logo has been purchased to enhance our dining experience.
Dan addressed the replacement of the former "Yacht Club" sign above the front entrance was replaced with "Vallarta Yacht Club"

Rear Commodore Bill Noonan, representing Ashore Activities Director, noted that the two Tom Coster concerts were widely enjoyed, and theYachtsmans Luncheon Seminars continued to be popular. The chili cook-off hosted by Doug Campbell was a big success, as well as the Friday Fish Fry nights. Music was provided regularly for week-end events. The very popular Stick-Horse Race is being revived.

Speaking for himself, Rear Commodore Noonan reported that the annual Pacific Puddle Jump Seminars, largely arranged by Bill and Dick Markie were highly successful. As a convenience to the many PPJérs berthed and anchored at Marina Riveria Nayarit at La Cruz, the seminars were divided between the Vallarta Yacht Club and the Marina Riveria Nayarit.

Staff Commodore Linda Green continued her outstanding contribution by arranging the hosting of the Pre- PanAm races and the WesMex Regatta and recruiting the many volunteers required to support these events. Linda has been the driving factor in obtaining VYC's sanction to host the on-the-water portions of the International Pan-Amerivan Games to be held in October 2011.

Afloat Activities Director Mike Danielson was extremely active in supporting the Pre-PanAm,WesMex and Banderas Bay Regattas, as well as conducting the Vallarta Cup Series, Dine and Dash programs, and the Pirates for Pupils spinnaker race. The SSS committee will function as the VYC Race Committee for the upcoming events.

Junior Program Director Ken Gill reported that Junior sailing activities continued at a rapid pace. Eugenie Russell was hired as the new sailing coach.

Treasurer Al Benaroya developed a new format for our financial reports, making them much easier to read. He indicated that the Club's finances were healthy, with adequate reserves in place. He indicated a $5K USD loss for the year, which he felt was not too significant due to the many activities of the Club this year.

Membership Director BonnieFearis developed a new membership brochure, and conducted several successful campaigns, attracting a new high of new members and retaining old ones.

House Director Jerry Siggins completed upgrades to the sound and lighting systems and installed a new widescreen TV in the patio area for viewing special events.
Secretary Andy Barrow shepherded the installation of new cybercafé computers and the improvement of reliability of the overall system. He worked on a rebuild of the Club website, cleaning it up and providing Spanish language capability.

Banderas Bay Regatta Chair Jenny Durnan has been hard at work developing the myriad details involved in this Signature Event to be held March 8-12. Past Chair Laurie Ailworth stepped up to help guide Jenny in this huge venue.There will be an opening ceremony in Paradise Village, and a yacht parade to start the racing activities, which will continue through March 12. A big closing event will be held in the Paradise Village pool area.

Paradise Village Liason Dick Markie reported that he has been working with the Mexican Navy on improving security in the area, and they now have night patrols in the canals.

Long time member Bob O'Hara requested that he be relieved of handling the Jim Ketler service award in the future. The Board agreed to accept this responsibility.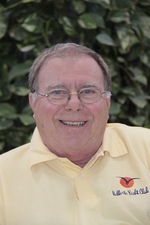 COMMODORE DAN GREEN
2011-2012
One of the founding members of the VYC who provided leadership on the VYC Board of Directors for many years, Dan accepted the Commodore position for one of the most active and internationally visible seasons of the Vallarta Yacht Club.
Officers:
Commodore Dan Green
Vice Commodore Andy Barrow
Rear Commodore Randy Hough
Treasurer Al Benaroya
Secretary Laurie Ailworth
Staff Commodore Al Burrow
Directors:
Membership BonnieFearis
Ashore Activities George Kraniak
Afloat Activities Mike Danielson
Junior Sailing Ken Gill
House Jerry Siggins
Public Relations Dick Williams

Directors Appointed by the Commodore and Board:
Paradise Village Liason Dick Markie

The 2011-2012 season has been one of the most memorable, highlighted by involvement in and hosting of international regattas. The season started out with the Jr. Sailing team attending the Mexican Jr. Olympics and returning triumphant - the Riviera Nayarit team earned 9 medals, an outstanding achievement for our young sailors. In October, the VYC hosted the sailing portion of the 2011 Pan American Games. This international event is a testimony to the volunteer dedication and regatta/tournament management expertise demonstrated by our relatively young yacht club. When the VYC was first officially established in 2002, surely none of the founders visualized this level of stature in the international sailing community.
The excitement didn't end in October. A large reunion of Pacific Puddle Jumpers in March is the perfect addition to a full schedule of informational seminars. WesMex, a relatively new legacy of the VYC, has gained significant stature, with the 2012 event attracting more than 100 entrants and inclusion in the bi-annual Copa Mexico. To top it off, the International Banderas Bay Regatta celebrates its 20th anniversary in 2012. Let's not forget our frequent Jr. Sailing regattas, and of course our famous Great Chili Cook-off. In December, 2011 the Cook-off broke the record for attendees and amount donated to charity. With special Jazz Dinner Concert Nights, sold out Patsy Kline, Sweetheart's Ball, Art & Wine Festival, Fashion Shows, cruise-outs and much more ... 2012 was a full schedule. The new Member newsletter was a hit and continues to keep everyone posted of current and upcoming events, helping to fill the Club for special events.
Dan was committed to enhancing the organizational structure and professional growth of the VYC. A Community Action Program was initiated, providing a framework to 'give back' to the community. Key Milestone dates for critical Board actions were established for the 2011-2012 season and will serve as a guide for future Boards, allowing for faster transition. A new Strategic Planning Working Group was established, and their work continues as new and returning Board members take the baton.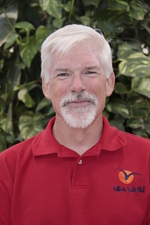 COMMODORE ANDY BARROW
2012-2014
Now entering his third term as an Officer on the VYC Board of Directors, Andy accepted the Commodore position and will provide his expertise and leadership as the Club moves forward with strategic planning and member communication initiatives.
Officers:
Commodore Andy Barrow
Vice Commodore Leslie Hough
Rear Commodore Randy Hough
Treasurer Al Benaroya
Secretary Dee Cockerham
Staff Commodore Dan Green
Directors:
Junior Sailing Jess Coburn
Public Relations Dick Williams
Sponsorship and Volunteerism Janet Coburn

Directors Appointed by the Commodore and Board:
Paradise Village Liaison Dick Markie

This new season presents both opportunities and challenge. The past season was an exceptionally active time of regattas and events. Andy now leads the Club forward, helping to re-energizing the Strategic Planning efforts and working hand-in-hand with Club members in a new process for communication, teamwork, and cooperation. New "Town Hall" meetings have begun in an effort to enhance opportunities for open discussion between members and the leadership team of the VYC. And as the new season Ashore and On the Water Calendar is developed over the summer, we looked forward to an active and full roster of activities. However, it was necessary to cancel the Club's annual charity Chili Cook-off by the wishes of our landlord. But our members pitched in to raise a tremendous food drive for the families of PEASE, a grand toy collection for the 250 families enrolled in the Families of the Dump as well as a shoe and clothing drive in May.
Unfortunately for the Club and its officers and directors, there was an incident of the questionable employee summer layoff procedure that caused a movement to swell and threaten a severe loss of longtime memberships. Extraordinary efforts of the officers and directors led by Commodore Andy Barrow throughout the summer and the fall to overcome this serious threat to the Club were successful in tempering the movement and the total lost membership was limited to only one.
Because so much effort was expended in dealing with the past year's membership crisis, Commodore Andy chose to serve a second term to provide the growth objectives he had envisioned accomplishing at the onset of his being elected as Commodore.
2013 Board candidates were elected unanimously with 27 present and 5 absentee ballots.
Officers:
Commodore – Andy Barrow
Vice Commodore – Leslie Baldwin
Rear Commodore – Dick Williams
Treasurer – Dee Cockerham
Secretary – Susie Morrison
Staff Commodore – Dan Green
Directors:
Ashore Activities – Ricki Williams
Membership – Sandy Parker
Sponsorship – Janet Coburn
Public Relations – Ibis de Teresa
Directors appointed by Commodore and Board:
Paradise Village Liaison - Dick Markie
During this term, the Club's general challenges were being addressed and new opportunities were welcomed. The newly established "Town Hall" meetings were continued, the Ashore events were all well attended and enjoyed, the third La Manzanilla Cruise Out was held and both the Banderas Bay Regatta and the WesMex Regatta were well attended with shore side evening entertainment added to each night of the Vallarta Cup races. The Club's Board made good on its promise to find an alternate location for the Chili Cook-off. By including restaurants to bring sample food items the attendance at the Nuevo Vallarta malecon was much increased.. We finally addressed our long overdue need to generate sufficient revenue to cover all fixed overhead costs with dues income. Figures provided by the Treasurer's calculations indicated a required 53% increase in monthly dues. The Board, sensing there would be a painful membership dropout, approved only a 26% increase and to meet the differential through cost savings, membership promotions and additional income sources. Our lease specifically restricts our Club's ability to establish many potential new income sources. However, our landlord did agree to the Club's staff to operate a small tienda alongside the ramp area.
Because the WesMex was included in the Mexico Sailing Federation's newly formed national racing circuit, the attendance grew 100% with 200 competitors in Optimists, Lasers and 420s. The Club also was chosen to host the annual national youth Olympics with well over 200 competitors.
COMMODORE RICKI WILLIAMS
2014 – 2015
It was quite evident that the 2014-2015 term would be a very busy one for the Officers, Directors and Members. The WesMex Regatta was now a permanent and important national circuit qualifier for the Optimist South American and the Worlds championship and VYC received confirmation to host the 2014 Optimist North American Championship along with a promising Banderas Bay Regatta scheduled for March. All this afloat activity was further by an unusually high amount of ashore activities.
The newly elected and reelected Board of Directors were as follows:
Officers:
Commodore – Ricki Williams
Vice Commodore Dee Cockerham/Leslie Baldwin
Rear Commodore – Dick Williams
Treasurer – Mario Antoci
Secretary – Bobby Brown
Staff Commodore – Andy Barrow
Directors:
Ashore Activities – Diane Antoci
Afloat Activities – Andy Barrow
Membership – Charlotte Schull
Junior Sailing – Dan & Linda Green
Appointed Directors:
Paradise Liaison – Dick Markie
In addition to the ongoing effort to meet fixed expenses, two major misfortune and tragic situations. Effective January 1, 2014 Mexico's revised tax law effectively changed the Club's non-profit status to that of a profit entity subject to both income and Value Added Taxes (IVA). Later, in the Spring, our most beloved and valued Vice Commodore, Dee Cockerham, was diagnosed a victim of cancer. She continued to meet her Club responsibilities until her weakened body forced her to withdraw in the Autumn of this same year. Before the year's end she had passed away.
It was initially difficult to understand the best way to manage this change of status. Legal and tax accounting advisors first recommended spinning-off the Bar and Restaurant cost center as a wholly owned individual business. As the Board was in the process of doing just that, it became apparent that it was not possible to stay below the two million limitations which meant having at least two, if not three, individually owned businesses plus that of the basic Club activities. Basically, an accounting nightmare! Various proposals and recommendations were considered throughout the year, until the Board realized that we had been ill-advised. In fact; it was in deed, quite possible to stay as one company and pay whatever taxes in certain categories of income and expense that would be due. And, if Vallarta Club de Yates, A.C. were to be recognized as a "sports association" the Club would be exempt from income tax and possibly many areas where IVA might be exempted. Thus, the Board changed course and went forward in this more conservative direction. The first step was to reverse the Bar and Restaurant individual ownership back to a VYC cost center. Secondly, the Board began its search for a more non-profit experienced accounting firm. And, thirdly, to initiate the legal steps to apply to RENADE for "Sports Association" CONADE registration.
The Club's very active social and on-the-water events were readily welcomed by the Club's members. Ashore Activities volunteers provided a record 21 events with other individual and group volunteers providing a Fashion Show and a great Kassiano Show. The Banderas Bay Regatta saw 33 competitor yachts. And, the WesMex (again a major element of the Copa Mexico) expanded to a record 240 boats with 320 competitors and coaches.
In keeping with the Club's unwritten practice of hosting a major World Sailing event at least every two years, the second Optimist 2014 North American Continental Championship was held in July. Chairperson Linda Green and our Junior Sailing parents and VYC volunteers held a most successful ten day event. And, fortunately for the Club, the event netted a positive gain of 335,000 pesos ($20,000 USD). Thus allowing the Club to finish the financial year in the black.